Reprinted from Fifty Contemporary Choreographers published by Routledge, edited by Martha Bremser. Used by permission of the author.
Trisha Brown's dances are shaped by dreams of levitation, by geometry, enigma, physics, by memory, mathematics and geography, by language. Her gestural imagery challenges perception of the moving body, making the impossible appear possible. Imagining that dancers can fall not only down but up or sideways, Brown makes the rules of life seem arbitrary, offering an exhilarating transcendence of physical limits. Since 1962 her choreography has explored the interplay of intellect and instinct, paradoxes of logic and non sequitur, interpenetrations of present and past, coincidences of abstract form and mythic action, and the edges between visibility and invisibility.
Brown was born in rural Aberdeen, Washington, where she immersed herself in her wilderness environment, in dance, and in athletics. While attending Mills College in California she studied modern dance technique and composition derived from the teachings of Martha Graham and Louis Horst. At a workshop with the dance innovator Anna Halprin, she explored experiential anatomy, task-based improvisation, breath and vocalization, and sensory awareness of the environment. This led to further investigations of experimental structures in the early 1960s in New York City—improvisational 'rulegames' with Simone Forti, indeterminate dances and spoken text with Yvonne Rainer, 'happenings' with Robert Whitman, Fluxus events with poets and composers, and performance pieces with Robert Rauschenberg.
At the Merce Cunningham studio, Brown was introduced to chance organization of movement and stage space. The aesthetic philosophy of the composer John Cage also became a source of ideas through his performed lectures and through Robert Dunn's Cage-sponsored composition course. Dunn emphasized conceptual strategies for composing dances, influenced by chance scores, Bauhaus approaches to materials and structure, Eastern philosophy, and existentialism. Brown presented her earliest works with Judson Church Dance Theater, the home of a revolutionary movement in dance composition that evolved from Dunn's classes. Trillium (1962), Lightfall (1963), and Rulegame 5 (1964) were highly physical responses to improvisational scores. In Trillium she took simple instructions to sit, stand, or lie down to illogical conclusions and ended up 'lying' flat out in the air, suspended.
During the late 1960s, Brown initiated a series of autobiographical pieces exploring self-transformation and gesture: Homemade (1966), Inside (1966), Skunk Cabbage, Salt Grass, and Waders (1967), Ballet (1968), and Dance with a Duck's Head (1968). Full of physical and emotional risk, these were personally created rituals in which Brown posed the self as a dilemma, making identity vulnerable to disassembly. More performance-art pieces than dances, their predecessors were 'happenings'. Brown conflated private and public spaces by using a barely converted industrial loft as both home and studio, putting domestic gestures into her dances like found objects. She overlaid personal history with live improvisation, exorcising, for example, the violence of hunting experiences as a teenager with her father. She pursued sudden disorientations in off-balance moves, hurling herself, plummeting, and rebounding. With filmic projections she took metaphoric flight from the constraints of femininity, using props like tutus and tightropes to fulfil fantastical images.
From 1968 to 1975 Brown created a series of suspension works, constructing specialized surfaces and devising equipment that enabled dancers to traverse them. In Planes (1968), Man Walking Down the Side of a Building (1970), The Floor of the Forest (1970), Leaning Duets (1970), Walking on the Wall (1971), Roof Piece (1971), and Spiral (1974), she suspended dancers in unusual relationships to gravity. She celebrated downtown Manhattan's architecture, its raw interior lofts and expansive outside spaces. She estranged pedestrian activities by shifting around the ways that floors, walls, or ceilings frame them: three women navigated a huge pegboard wall, using holes as hand and footholds; a man keeled forward atop a seven-story building and ambulated downwards perpendicular to it; performers climbed in and out of clothing strung horizontally across a huge pipe grid rigged at eye level in an empty room. Dancers walked on the walls of the Whitney Museum, viewed by spectators as if from a tall building looking down, or they cantilevered out from pillars in a loft space, spiraling their way around horizontally until they reached the ground. Elevated above the city, performers stationed on rooftops relayed gestures across a mile-long span of skyline.
Overlapping these works, from 1971 to 1975, Brown invented eight dances in a new 'accumulation' genre, including Accumulation (1971), Group Primary Accumulation (1973), Accumulation With Talking (1973), and Group Primary Accumulation: Raft Version (1974). She pared movement down to sparse gestures played out serially, following mathematical dictates. Standing or prone, in solo or unison group forms, in museums, parks, or floating on rafts on a lagoon, in silence or while talking, she and her dancers articulated one move, then another, then returned to the first, moved on to the second, added a third, and so on until they had accumulated a list of basic flexions and rotations of the joints, negating any rationale for moving other than being attentively present.
Structured Pieces (1973–76)—including Sticks, Discs, Mistitled (5 Clacker), Spanish Dance, Solo Olos, and Figure 8—and Pamplona Stones (1974) were composed of activities with objects and were formal considerations of geometric line or metric time. Presented in lofts, galleries, and museums, these works reflected a sensitivity to architecture and space similar to sculptural installations in the visual arts. Dancers performed tongue-in-cheek tricks with long white poles, 'sat' in chairs turned on their sides, or ran as cardboard discs were thrown under their feet. The objects as nonhuman partners gave the pieces a material, external quality and facilitated communication about balance, weight state, or line. There was both risk and absurdity in these tasks, and the possibility of success or error was approached in a matter-of-fact way.
Indoors or outdoors, spectators of the Accumulations or Structured Pieces moved from site to site to encounter the dancer-objects, who became part of architectural features or of the ambient motion of the surroundings—for example, that of bicyclists, pedestrians, rainstorms—evoking a palpable connection between person and place. In Locus (1975), Brown created a virtual room for the human body: an imaginary cube, its faces subdivided into 26 points that corresponded to letters of the alphabet. Gesturing to each point with mechanical motions of the joints such as hinging, rotating, or leaning, Brown intended no emotional or narrative content. As anatomical structure fulfilled line and volume, the body became an insistently formal entity, the skeletal system articulating angles of 45, 90, and 180 degrees. The dance, freed from connotation, became animated by a structural language of grids, angles, and semaphore-like moves.
While in the early 1970s Brown was interested in the sheer presence of the performer in the moment of performing, from 1976 to 1983 she memorized spontaneous moments. Locus gave her tools to graph complex movement three-dimensionally. In Line Up (1976), she asked dancers to remember improvised phrases based on permutations of lines. In her 1978 breakthrough solo, Watermotor, Brown tapped memory by choreographing moments from her personal history, placing them amidst fluid, multidirectional moves. In Accumulation with Talking Plus Watermotor, she developed this approach by splicing gestures from Watermotor into a standing Accumulation, and layering this with extemporaneous speaking. She cut between two stories and two dances at once, pushing order-making capacity to the limit, overcoming possible disintegration or memory loss.
Brown set improvised forms with her company in Glacial Decoy (1979), Opal Loop (1980), Son of Gone Fishin' (1981), and Set and Reset (1983). These pieces range from the interior and the cryptic to outgoing and geometrical. In high-flying ensemble moves from improvisation and recall, responding to instructions like 'act on instinct', dancers met, interlocked for an instant, and passed on, guided by intricate cueing systems. Timing was malleable, gauged to the effects of gravity on the off-kilter moving body. The space between bodies was charged with comings and goings, near or actual collisions, and split-second unisons. Anatomical functions became choreographic principles as the group extended, folded, or rotated. Any part of the body was free to combine with any other in an overall democratic vision of the relation between limbs and torso, center stage and periphery, individual and group.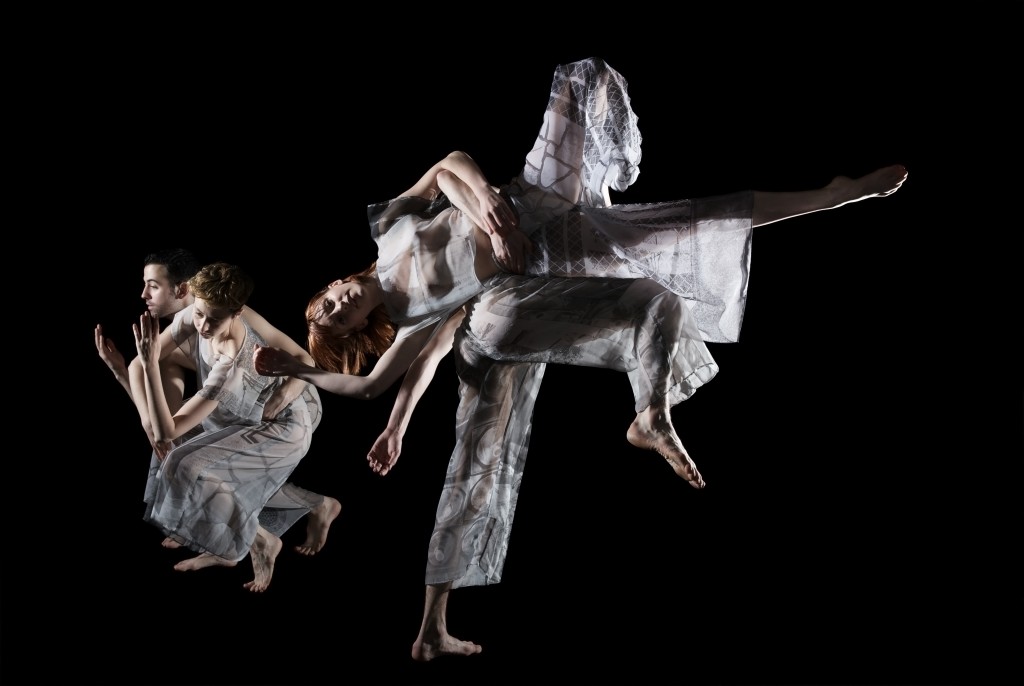 From Trillium to Set and Reset, Brown honed the fit between formal structure, or the dance score, and raw material, or the movement. Engaging the score kinaesthetically, dancers physically manifested its idea. Linked to mathematical and geometric progression in minimal art, Brown's structures have subverted subjective compositional choice, so central to expressionist modern dance. Hewn from principles greater than the choreographer's personal imagination, Brown has called her scores 'dance machines'— objective mechanisms that collaborate with the choreographer to determine the where, when, and how of the dance.
In Accumulation and Locus, Brown built structures in front of the audience, so that the excitement of discerning them became a pleasure of viewing. In later multi-layered works, the formal structure became a nearly invisible undergirding, subliminally suggesting priority of thought as a foil to the instinctive dancing. The 'machine' in Primary Accumulation was mathematical serial progression, in Man Walking Down the Side of a Building spatial progression from top to bottom, in Locus numerical linguistic- spatial co-ordination of gestures, in Line-up the forming and dissolution of lines, in Set and Reset a rectangular progression that traced the stage edges.
Each of Brown's formal structures elicited from the dancers an integral clarity in terms of anatomical and spatial intention. Feeding into this developing physical knowledge were Brown's studies, from the early 1970s onwards, in alternative approaches to dance training—Kinetic Awareness with Elaine Summers, the Alexander Technique, and, since 1985, Susan Klein Technique. Brown relearned to articulate each body part separately or in co-ordination, expanding range and diversity of motion. Her signature sequential style evolved from fluid joints, responsive without obstruction. Release techniques encourage ergonomic efficiency, and Brown began to divest her designs of ornament, using limbs as levers or shifting weight like a hydraulic press. Physical dynamism found an analogy in technological power. Her 'dance machine' works intertwined America's dual love of technology and wilderness, the raw material of unrestricted movement civilized by the mechanized score.
By 1985, as the kinaesthetic sources of her dancing became integrated with her formal concerns, Brown no longer utilized scores as organizing principles, and focused more on movement ideas that evolved from the physical state of the body. In Lateral Pass (1985), Newark (1987), and Astral Convertible (1989), dancers loped by with large-bodied, muscled momentum, shifting from floorbound to upright, to airborne positions. Rather than use partnering for presentational display, they assisted one another to realize movement more fully. The entire group became a mechanism to heave individuals airborne, so that partnering became a sort of acrobatic cantilevering as bodies hurled, thrusted, swung, and rebounded, building and dispersing architectural forms, constantly changing plane, direction, and dimension.
A high degree of virtuosity gives these works a striking theatricality. Contributing to this, beginning in 1979, Brown collaborated with composers and visual artists on large- scale productions for the proscenium theatre. She commissioned musical scores by Robert Ashley, Laurie Anderson, Peter Zummo, Richard Landry, John Cage, and Alvin Curran. Visual presentations by Robert Rauschenberg, Fujiko Nakaja, Donald Judd, Nancy Graves, and Roland Aeschlimann established environments inside the theatre, obscuring dancers in fog or dissecting space into quadrants with richly colored drops that spanned the proscenium horizon. Neon-colored sculptures flew in and out as dancers careened around them. Larger-than-life size photographs traveled silently across the back wall, or car-light-studded towers blinked like an airport terminal at night.
Brown designed many of her formal structures to challenge the traditional relationship of dance to the theatrical frame, and she carried her sensitivity to environmental space into the proscenium theatre. She composed movement explicitly for the stage edge, so that entrances and exits, visible through sheer wings, questioned conventional boundaries of vision. For example, she arranged a quartet to slide in and out of view, laterally: as one dancer slipped offstage, another replaced her way across on the other side, creating an illusion that the one just out of view continued on invisibly, the proscenium unable to frame or contain her.
In 1990, following her large-scale geometric works, Brown turned to softer chamber forms that explored processes of perception, whether in the performer's or the spectator's mind. In Foray Forêt (1990), For MG: The Movie (1991), and Another Story as in falling (1993), she began to build character out of abstract form. In 1986, Brown's choreography for Lina Wertmuller's opera production of Carmen had pressed abstraction into confrontation with high drama and character; in For MG, with an object-like performing presence that still carried Judson influences, dancers fulfilled purely physical acts that suggested isolated moments of a story. Mythic, archetypal figures emerged—a woman running, a man standing still. When they did so long enough their exertions became metaphorical acts of endurance.
In these works, moves, placed like objects in time and space, suddenly become loaded with story or metaphor, but feeling dissolves back into geometrics. The dancers stand for nothing other than what they are, yet in their play with front, back, nearness, or distance, emotional meanings emerge as unexpected insights. The works are studded with empty spaces that evoke contemplation. Sometimes in the breaks between moves, the body gestures reflexively, turbulently, inscrutably, or incoherently or abruptly enters into prolonged stillness. Movement ideas become so clear that the thinker disappears and only the articulation of form is visible.
Marianne Goldberg is a writer, performance scholar, and choreographer, rooted in New York City and Martha's Vineyard. She is currently revising and writing new essays based in thirty years of research, interviews and travel internationally with Trisha Brown and her company. The essays focus on relationships between Brown's early performance works, sited across Manhattan's architectural spaces, and complex choreographic structures for proscenium pieces, from Glacial Decoy to Set and Reset, Newark, Astral Convertible, and later dances and operas through 2012. She received her PhD in Performance Studies from New York University, MFA in choreography from Smith College, and BA in Aesthetic Education/ Dance from UC Santa Cruz. Her writings have been published in numerous journals and books nationally and internationally. Works in her inverted genre, the Performance Piece for Print, have been published in Artforum, Women & Performance, and Writings on Dance, Australia. Goldberg is director and founder of Pathways Projects Institutes, a multi-arts performance and gallery gathering space on Martha's Vineyard. She is artistic director of OceA Wilderness Choreographies and Body Text Projects.
Photos: Top by Cynthia Hampton; middle (Roof Piece) by Babette Mangolte; bottom (Set and Reset) by Julieta Cervantes.
Trisha Brown, selected bibliography of writings by Marianne Goldberg
"Trisha Brown's Accumulations," with Trisha Brown. Dance Theatre Journal 9:2 (1991).
"Trisha Brown: All of the Person's Person Arriving." The Drama Review: TDR 30:1 (1986), 149-170.
"Trisha Brown" in Fifty Contemporary Choreographers, eds., Martha Bremser and Lorna Sanders (London: Routledge, 2011), 37-42.
"Trisha Brown, U.S. Dance, and the Visual Arts," in Trisha Brown: Art and Dance in Dialogue 1961–2001, ed., Hendel Teicher (Cambridge: MIT Press, 2002), 39.
"Set and Reset, Trisha Brown and Company, Brooklyn Academy of Music, October 1983." Women and Performance: A Journal of Feminist Theory (1984), 158-159.