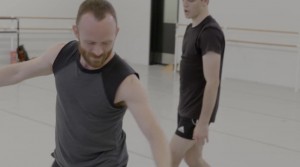 The Pennsylvania Ballet will be the first American ballet company to learn Trisha Brown's O zlozony / O composite (performances June 9–12 tickets/info), a 2004 trio made for the Paris Opera Ballet. These essays, written by long time Trisha Brown Company dancer Neal Beasley, detail the experience of setting Brown's work on the Pennsylvania Ballet dancers.
I've spent a lot of time on this trip looking out my hotel window. In the distance I can just make out the arching cables of the Walt Whitman Bridge, whose towers jut in contrast to the low-lying roofs of Southeast Philadelphia. I used to love the lifestyle of living in hotels and being in transit. Having spent so much of my adult life on tour, I've grown to enjoy the parenthetical space, the remove from the day-to-day of my life. At times being somewhere else has helped me reframe things, offered perspective. And as a former boyfriend once noted, as we left yet another boring dance performance where seemingly random choreographers were placed side by side, context has everything to do with how something is seen, with the ways in which we assign value.
On Friday—the last Friday I will spend with these dancers—the Company, along with some administrative staff and the other people here directing rehearsals, gathered to watch a run of the entire Balanchine and Beyond program, which premieres this Thursday. It was the first time, really, that anyone had fully seen the work I've been doing here, and the first time that I had seen O zlozony / O composite in the context of the other pieces on this program. The number of dancers involved in the other pieces, and the fact that they have more than one cast set to perform, has meant that their rehearsals have always had people watching. Our process has been much more private, at times just myself and one dancer alone in the studio. Ian Hussey, a principal dancer I've been working with, told me this week that our rehearsals, on account of their intimacy, have been something of a respite, a bubble in which to focus on work without the other social drama happening in the Company as of late. But Friday was our moment to step out and see how our work would withstand the weight of so many eyes.
The feeling of being watched is so familiar—and yet it never loses its power to transform the way that something feels, even the way it behaves. This is just as true in performance as it has been shown to be in quantum physics. The dancers handled themselves with surprising confidence, showing only momentary stutters and perhaps a bit of nervous acceleration in tempo. I'm not sure that I fared so well, leaving the rehearsal with sweat rings under my arms, and a self-consciousness from feeling equally on display.
This has happened to me every time I have directed a revival of this dance. O zlozony / O composite is usually on a program with much flashier works, with works that revel in the virtuosity of the balletic body and/or the dramatic affect of emotional posturing. It always sits quietly, like a thoughtful student in the corner of a classroom: alert, engaged, but not brazen or overly ambitious. While on its surface it resembles the other pieces and is clearly made for classical dancers, one still feels in its choice of vocabulary and compositional logic that it comes from a different lineage of thought and aesthetics than the one that produced George Balanchine, Hans van Manen, or any of the other choreographers the piece has shared a bill with to date.
Sitting next to the other restagers on Friday, I smiled as they all hummed along to Paul Hindemith's score for The Four Temperaments, the Balanchine work being performed on this program. They marked the choreography in their chairs, reminisced in whispers about which roles they had danced. At dinner that night, I listened as they swapped stories about all the acquaintances they have in common. I know for a fact that almost no one in that room on Friday had seen much (if any) of Trisha's other work, though they may know her name. While a lot of this feeling comes more from my own baggage than from the reality of the situation, it can be hard not to feel like an outsider. Though my job here is to reconstruct the choreography, it is hard not to simultaneously feel like an apologist for Trisha Brown. (more…)